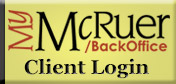 Free Online Small Business Assessment Tool
If you intend to grow your business, the benefits of professional accounting services cannot be overestimated. But, when is it cost effective to hire an accounting firm's experts?
Click on the link below to take a quick assessment of your current business accounting and bookkeeping needs. The results will tell you whether:
you're okay taking care of things on your own or in-house
you could use an updated resource
you could use an approach combining online and live interaction with a professional
it's time to hire a full-time professional for your business accounting and bookkeeping needs.
*This assessment is confidential for your private use only. We will not "track it" online nor see your responses unless you provide them to us. We respect your privacy.
Please feel free to contact us at (816) 741-7882 with any questions you may have.
McRuer CPAs. Professional services with a personal touch.