Firm Founder Scott McRuer
CPA Scott D. McRuer founded McRuer & Associates, LLC, in 1987. Now known as McRuer CPAs, his team of accountants and CPAs is celebrating 30 years of serving clients; including individuals and businesses operating in nearly every state and in several foreign countries from their Kansas City-area office. More than 1,500 clients engage the firm's professional business and personal tax planning and preparation services, accounting services and financial services.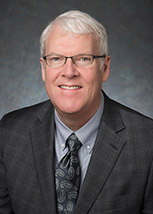 During the past three decades, Scott McRuer has gained experience working within and managing his accounting firm as well as working for the international accounting firm Price Waterhouse, Fortune 50 company Emerson, and tax preparation service provider H&R Block. He focuses his service on accounting and tax strategy, business growth strategies, and wealth management. McRuer earned his accounting degree from Westminster College in Fulton, Missouri, and is a licensed certified public accountant. His priority is to ensure that McRuer CPAs goes beyond what's expected.
McRuer explains, "The best business practices for a CPA firm have to do with being professional, accurate and prompt. At McRuer CPAs, we are all of that and more. What makes us uniquely successful is that we stay personable, approachable and truly want to do all we can to help our business clients grow their bottom line and our individual clients realize their financial dreams."
McRuer serves in a number of community and civic organizations and takes his role as a business leader seriously. He has served as a city alderman in Parkville, Missouri where he promoted the values of his constituents as well as voted on critical budget issues. He maintains a healthy balance of fun in his life with a love for golf and being a car and motorcycle buff, an active Rotarian and a pal to his dachshund named Oscar. (As the "Tax Hound", Oscar has developed a fan base of his own!)
McRuer reflects, "At McRuer CPAs, we've put together a team of people who understand that money is not what you're working for. Instead, we know it's a tool that you use to enjoy the things in life that matter most; like family, friends and community." That's why McRuer CPAs team members make certain they're doing all they can to help clients have the information they need to make better financial choices.
McRuer spends much of his personal time volunteering his financial expertise to help community and non-profit organizations be more successful. Some of his memberships and leadership positions include or have included: Park University Board Chair, Treasurer for the Board, and Finance Committee Chairman; Board Chair for Pryor Learning Solutions, Inc.; Chairman and President of the Park Hill School District Educational Foundation; Director of the Clay/Platte Development Corporation; Commissioner of the Platte County Board of Zoning Adjustment; Director and Treasurer of the Briarcliff Community Alliance; Director and Treasurer of the Banneker School Foundation; Member of the Platte Profile 2020 Strategic Planning Team; Member of the Platte County Pachyderms Club; Member of the Platte County Citizens Coalition; Troop Committee Member, Chapter Audit Committee Member, Chartered Organization Representative and District Member at Large for the Boys Scouts of America-Heart of America Council; Board Chair, President, Treasurer and Member of Parkville Rotary Club and Rotary Charities; Chairman, Secretary and Treasurer of the Platte County Economic Development Council, Inc.; Planned Giving Committee Member, Audit Committee Member, Staff/Parish Relations Committee Member and Member of Platte Woods United Methodist Church; Member of the American Institute of Certified Public Accountants and the Missouri Society of Certified Public Accountants; Director and Treasurer of the Spelman Medical Foundation; Member of the Northland, Parkville, Riverside and Liberty Area Chambers of Commerce; Director of Chapter Finance and Strategic Planning Committees of the Greater Kansas City Chapter of the American Red Cross; Company Advisor for Junior Achievement of Kansas City; Big Brother with Big Brothers Big Sisters; and Director and Treasurer for the Main Street Parkville Association.
We wouldn't want to forget to mention that in his spare time, McRuer enjoys sponsoring downtown Parkville's summer cruise nights, and the Kansas City BMW Motorcycle Club and enjoys traveling country on his motorcycle.
McRuer hopes you'll consider the McRuer CPAs Team for your accounting, financial planning and tax preparation services. As McRuer says, "If you're looking for a relationship with a firm that has a history of excellence, experience and a genuine concern for helping you sort through complicated business and personal accounting and tax planning issues, please give us a call. We're happy to help!"
Click here to fill out our confidential Contact Form or call us for your appointment to review your goals and strategies: 816.741.7882.