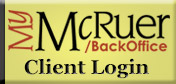 Forms & Resources
For your convenience, we offer you these easy to download forms and information presentations.
Most of these forms are provided using an interactive format allowing you to download the form, fill out the required information, save it for your files and upload a digital copy to our secure online resource MySafe Exchange. If you have any questions, please give us a call at McRuer CPAs: 816.741.7882.
2017 Year-End Tax Tips
As 2017 comes to a close, it's important to make timely and quality year-end financial decisions to make certain you pay only the taxes you owe both as an individual and a business. We have compiled a list of tax tips that will help you review your options. Please contact us to schedule your year-end tax planning session and confirm your next steps.
Business
MySafe Exchange Login & Upload Instructions
McRuer CPAs Business Information Form for Consultation Meeting
2017 Business Tax Organizer Forms
Individuals
MySafe Exchange Login & Upload Instructions
Individual 1040 Tax Organizer - Personal Long Form
Individual 1040 Tax Organizer - Personal Simple Form
Individual Tax Organizer - Business - Schedule C
Individual Tax Organizer - Farm & Farm Rental
Individual Tax Organizer - Rental Properties